I was searching the internet a while back and I came across a book titled History of Seattle from the earliest settlement to the present in Google Books, with a chapter called Boot And Shoe Making.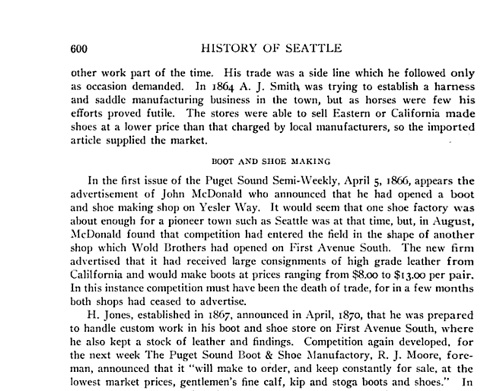 I have no idea how accurate this book is historically, but if it's at all correct, John McDonald, who announced on April 5th, 1866 in the Puget Sound Semi-Weekly that he had opened a boot and shoe making shop on Yesler Way, was most likely the first shoe maker to set up shop in Seattle. That was 145 years ago!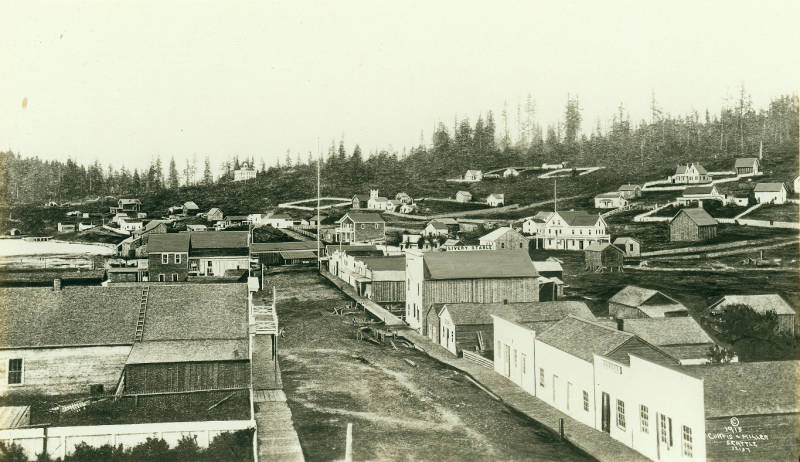 In 1866, Seattle was a small frontier town with a population of around 1,000 people (In 1870 for example, Seattle's population was 1,107), and was about as far away from New England, the shoe making center of the United States at that time, as one could get. It had only been one year earlier that The American Civil War had ended.
John McDonald most likely used a sewing machine to make his shoe and boot uppers, which had been adapted for making shoe uppers around 1851, but everything else involved in making shoes and boots would have been done by hand. The Blake/McKay Machine for stitching on soles had been introduced in 1958, but was very slow to be adopted, and the Goodyear Welt Stitcher wasn't in use until the 1870's. It's a bit surprising, but the way that John McDonald made and I make shoes are for the most part the same!
John McDonald wasn't alone for long. According to the book, in August of 1866, The Wold Brothers opened a shoe making shop and "would make boots at prices ranging from $8.00 to $13.00 per pair."
$8 to $13 a pair? That's so cheap, or was it?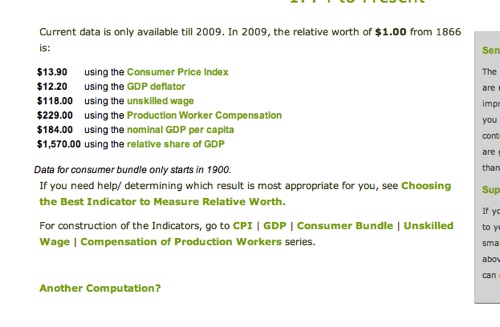 According to measuringworth.com, "if you are wondering how "affordable" this would be to the average person, use the GDP per capita, or a wage or average earnings index." Ok, so how expensive would the Wold Brothers' shoes and boots be today?
The Nominal GDP per Capita for $1 from 1866 would be worth $184.00 now, so the Wold Brothers would make boots at prices ranging from $1,472 to $2,392 per pair today.